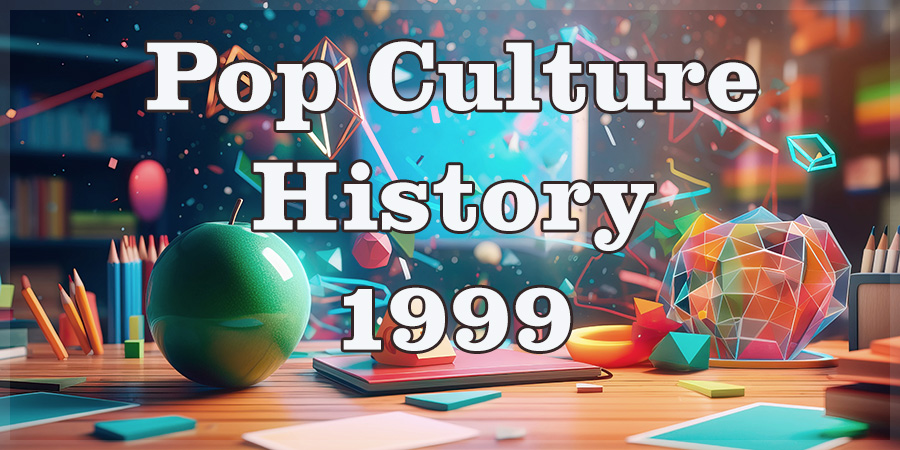 1999 Annual History Facts
Hacking: In 1999, hackers revealed a security flaw in Hotmail that permitted anybody to log into any Hotmail account using the password 'eh'.
The Top Song was Smooth by Santana with Rob Thomas
The Big Movies included Star Wars: Episode I – The Phantom Menace, The Sixth Sense and Toy Story 2
Price of Dannon yogurt, 8 oz in 1999: 50 cents
Price of a movie ticket: $5.00
Daily newspaper: 35 cents
The World Population was ~ 5,999,000,000
Big Mouth Billy Bass singing Plastic Fish was introduced in 1999.
People born in 1999 have better chances of being alive in three different centuries than any other group of humans in history.
And… Al Green said he received more royalties from Big Mouth Billy singing Take Me To The River than from any other song recording.
World Series Champions
New York Yankees
Superbowl XXIII Champions
Denver Broncos
National Basketball Association Champions
San Antonio Spurs
NHL Stanley Cup Champions
Dallas Stars
US Open Golf
Payne Stewart
US Open Tennis (Men Ladies)
Andre Agassi/Serena Williams
Wimbledon (Men/Women)
Pete Sampras/Lindsay Davenport
NCAA Football Champions
Florida State
NCAA Basketball Champions
Connecticut
Bowl Games
Orange Bowl: January 2, 1999 – Florida over Syracuse
Rose Bowl: January 1, 1999 – Wisconsin over UCLA
Sugar Bowl: January 1, 1999 – Ohio State over Texas A&M
Kentucky Derby
Charismatic
Westminster Kennel Best in Show Dog
Lotekti Supernatural Being
Time Magazine's Man of the Year
Jeff Bezos
Miss America
Nicole Johnson (Virginia Beach, VA)
Miss USA
Kimberly Pressler (New York)
Fashion Icons and Movie Stars
Gillian Anderson, Pamela Anderson, Jennifer Aniston, Drew Barrymore, Victoria Beckham, Halle Berry, Yasmine Bleeth, Kelly Brook, Sandra Bullock, Emma Bunton, Neve Campbell, Mariah Carey, Laetitia Casta, Courteney Cox, Cindy Crawford, Cat Deeley, Cameron Diaz, Carmen Electra, Isla Fisher, Anna Friel, Sarah Michelle Gellar, Teri Hatcher, Salma Hayak, Katie Holmes, Elizabeth Hurley, Natalie Imbruglia, Nicole Kidman, Anna Kournikova, Heidi Klum, Lisa Kudrow, Jennifer Lopez, Elle Macpherson, Jenny McCarthy, Melinda Messenger, Dannii Minogue, Kylie Minogue, Kate Moss, Gwyneth Paltrow, Sarah Jessica Parker, Billie Piper, Natalie Portman, Katie Price (Jordan), Denise Richards, Rebecca Romijn, Jeri Ryan, Meg Ryan, Winona Ryder, Claudia Schiffer, Elisabeth Shue, Victoria Silvstedt, Britney Spears, Shania Twain, Liv Tyler, Niki Taylor, Charlize Theron, Kaye Winslet, Catherine Zeta-Jones
"The Quotes"
"I see dead people."
– Haley Joel Osment, in The Sixth Sense

"Is that your final answer?"
– Regis Philbin, on Who Wants To Be A Millionaire?

Columbine shooter Eric Harris encountered Brooks Brown, an acquaintance; Brown commented about Harris missing a test, "It doesn't matter anymore." Harris then elaborated: "Brooks, I like you now. Get out of here. Go home." Brown, feeling uneasy, walked away.
1999 Pop Culture History
Phil Collins recorded the English, French, German, Italian, and Spanish versions of the songs for Disney's Tarzan film soundtrack.
Maude Flanders was killed off on The Simpsons because of a pay raise dispute with the voice actress, Maggie Roswell. She was flying back and forth from Denver to Los Angeles and wanted a raise to cover the costs. Fox offered her a $150 per episode raise, so she quit.
Cher holds the record for the longest period between two consecutive number-one hits in the USA, with the songs Dark Lady in 1974 and Believe in 1999 – a gap of 25 years. Second place is The Beach Boys, with Good Vibrations and Kokomo from 1966 and 1988 for a gap of 22 years.
They Might Be Giants became the first major-label recording artist to release an entire album, Long Tall Weekend, exclusively in mp3 format.
The Pokemon Kadabra hasn't appeared in the Anime or Card games following a lawsuit filed by psychic Uri Geller in 1999, claiming "Nintendo turned me into an evil, occult Pokemon Character."
Au Bon Pain Co. sold Au Bon Pain in 1999 and renamed Panera Bread Company.
Australian Bill Morgan was hit by a truck and was clinically dead for 14 minutes. When he awoke, he bought a scratch card and won a car worth $25,000. When asked to recreate this for the news, he won the $250,000 jackpot live in the air.
November 5, 1999, was "Burn All GIFs" Day when the internet banded together to end the GIFs. It didn't work.
The Screen Actors Guild strike of 1999 prevented the use of live actors in advertising. Needing an advertising campaign, an insurance company turned to CGI to replace the actor. The Geico Gecko was born.
Until 1999, the State of Montana didn't have a speed limit on the interstate, and instead encouraged drivers to be "reasonable and prudent."
Bill Gates made 15 bold predictions in his book Business @ the Speed of Thought. Among them are social media, smartphones, price comparison sights, online payment systems, smart advertising, online discussion boards, online recruiting like LinkedIn, and online home monitoring.
The 1999 movie adaptation of the 1965 TV series Wild Wild West, starring Will Smith, featured a giant steampunk spider appropriate for the source material. The TV show has been credited as "one of the more visible origins of the steampunk subculture."
The Mummy was so successful that the morning after it was released, Universal Studios phoned the director and said, "We need another one."
Chess Grandmaster Garry Kasparov played The World in a game of chess that lasted over four months. Over 50,000 people from more than 75 countries participated in the game, with moves being decided by majority vote. Garry won on turning 62 when 51% of The World decided to resign.
On tour in 1999, the band Garbage was forced to cancel a show in Estonia when Russian customs officials prevented the band's equipment from leaving the country, believing the band's name stenciled on the boxes to be what was inside the cases.
M Night Shyamalan wrote the screenplay for 1999's Stuart Little
Payne Stewart, two-time US Open winner and 1989 PGA Champion, died when his airplane lost cabin pressure and oxygen. The plane was on autopilot, so even though the two pilots and four passengers were dead, the plane continued for 1,500 miles.
Finally, Pac-Man's Perfect Score! Billy Mitchell, played Pac-Man for six hours non-stop to reach the 256th screen and achieve a score of 3,333,360. Pac-Man was released in 1980.
In the 1931 movie Frankenstein, the line "Now I know what it feels like to be God!" following "It's alive! It's alive!" was censored by audio of a clap of thunder because it was considered blasphemous and was only just restored in 1999, nearly 70 years later.
Harvard physicist Lene Hau was able to slow down light to 17 meters per second and, by 2001, was able to stop light completely.
Google brought in 16 students to test out their search engine. Upon reaching the site, they sat still for 45 seconds, just staring. Worried, Google finally asked what was wrong. All 16 responded the same: waiting for the rest of the page to load.
Flea played completely naked with the Red Hot Chili Peppers on Woodstock '99.
Before 1999, the mythical AmEx Black Card was a myth. The myth became so pervasive that American Express decided to capitalize on it and make a black, ultra-exclusive credit card.
Susan Lucci won her first Daytime Emmy Award, after 19 nominations.
The Backstreet Boys song I Want It That Way chorus goes, "I never want to hear you say I want it that way" due to a songwriting error. Music execs changed it to "I love it when I hear you say" to make sense, but the band preferred the original version: "We as a group voted on it and said no."
Swiss watchmaker Patek Philippe created "the most complicated watch in the world." Made of 18K gold, the watch has 24 hands and 1,728 components, including features such as a star chart and thermometer.
Paypal was voted one of the ten worst business ideas of 1999.
Cost of a Superbowl ad in 1999: $1,600,000
Marilyn Manson wrote a Rolling Stone article in 1999 after the Columbine shooting, blaming the media for making the murderers 'celebrities.'
In 1999, the US government paid the Zapruder family $16 million for the film of JFK's assassination.
On July 28th, Tommy Chong was the very first person in America to receive a medical marijuana card, in the state of California.
When Swedish Radiologist Anna Bagenholm woke up after the most severe case of hypothermia ever survived at the time (56.7 °F), she was angry with her colleagues for saving her because she was paralyzed from the neck down. She later recovered from paralysis and apologized.
World War I News and Information
In 1914, British WWI soldier Thomas Hughes tossed a beer bottle with a letter to his wife into the English Channel. He was killed two days later. In 1999, a fisherman dredged up the bottle in the River Thames. Although Hughes' wife had died in 1979, it was delivered to his 86-year-old daughter.
RIP, Scandals, Sad and Odd News
Jan Sloot was a 54-year-old Dutch engineer who claimed to have devised a revolutionary compression technique that could compress a feature-length movie down to about 8 KB. He died of a heart attack days before selling his idea, and the source code was lost to history.
3.4 million copies of the animated Disney movie The Rescuers were recalled in 1999 because it contained two frames with a naked woman in the background.
Joan Murray survived a 14,500-foot fall after her parachute didn't deploy while skydiving. She landed on a mound of fire ants and was stung several hundred times, giving her an adrenaline rush to keep her heart beating.
Male Supermodel Fabio was asked to be on the first run of "Apollo's Chariot" at Busch Gardens and got hit in the face by a goose while on the ride.
A Florida man ("hchero" in Sunrise, Florida) auctioned his kidney on eBay. The post read, "You can choose either kidney. Buyer pays all transplant and medical costs. Of course, there is only one for sale, as I need the other one to live. Serious bids only." The bids reached $5.7 million before the company abruptly ended it.
Y2k was a bust. Many thought that most computers would stop working when the year 2000 hit.
Eugene Shoemaker is the only man buried on the Moon. On July 31, 1999, the Lunar Prospector space probe carried some of his ashes to the Moon in a capsule.
Eminem's mom sued her son for $10 Million for slander on the album The Slim Shady LP, and she was only rewarded about $1,600.
Hackers revealed a security flaw in Hotmail that permitted anybody to log into any Hotmail account using the password 'eh.' It was called "the most widespread security incident in the history of the Web."
In the 1999 movie The Matrix, Neo's passport expires on September 11, 2001.
Matthew McConaughey was arrested after police allegedly found him dancing naked and playing bongo drums in his house. He paid a $50 fine for disturbing his neighbors.
EA had to recall 100,000 copies of Tiger Woods PGA Tour 99 as an EA employee hid an uncensored copy of South Park's Jesus vs Santa episode on the PlayStation disc
Airplane Celebrity Death: John F. Kennedy Jr.
Sports Entertainment Death: Owen Hart (WWF wrestler, live on TV)
Pro Golfer Death: Payne Stewart when his plane lost cabin pressure, and all occupants passed out. After 4 hours of autopilot, the airplane crashed in South Dakota.
TV Child Star Death: Dana Plato, age 34 (overdose)
Firsts and the Biggest Christmas Gifts
Sega Dreamcast, Nintendo 64DD add-on, Furby Babies, Pokemon, Mary-Kate and Ashley and Britney Spears dolls, Chuck-E-Cheese Pizza Factory, Pokemon Gold and Silver video game
The Habits
Collecting Pokemon "pocket monsters" toys, cards, and games. Also, watching them on television.

Watching The Blair With Project in theaters. The film earned $248 Million and cost about $25,000.

Watching ABC TV's Who Wants To Be A Millionaire? at home. This show was the spark for network reality television.

Reading The Testament by John Grisham
1999/2000 Biggest Television Shows
(according to Nielsen TV Research)
1. Who Wants To Be a Millionaire (ABC)
2. E.R. (NBC)
3. Friends (NBC)
4. Frasier (NBC)
5. Monday Night Football (ABC)
6. 60 Minutes (CBS)
7. The Practice (ABC)
8. Touched By An Angel (CBS)
9. Law and Order (NBC)
10. Everybody Loves Raymond (CBS)
Popular Music Artists
The Biggest Pop Artists of 1999 include
Backstreet Boys, Brad Paisley, Brandy, Brian McKnight, Britney Spears, B*Witched, Cher, Christina Aguilera, Deborah Cox, Destiny's Child, Eminem, Enrique Iglesias, Eve, Faith Evans, Ja Rule, Jay-Z, Jennifer Lopez, Jessica Simpson, Kelly Price, Lauryn Hill, Mariah Carey, Missy 'Misdemeanor' Elliott, Montell Jordan, Nas, 98°, *NSYNC, Pearl Jam, Puff Daddy, Q-Top, R. Kelly, Ricky Martin, Rob Thomas, Santana, Shania Twain, Smash Mouth, Sugar Ray, TLC, Vengaboys, Whitney Houston, Will Smith, Wyclef Jean

(Data is compiled from charts, including Billboard's Pop, Rock, Airplay, R&B/Dance, and Singles Charts. The Hot 100 is the primary chart used for this list.)
Number One Hits of 1999
December 5, 1998 – January 15, 1999: R. Kelly & Céline Dion – I'm Your Angel

January 16, 1999 – January 29, 1999: Brandy – Have You Ever

January 30, 1999 – February 12, 1999: Britney Spears – Baby One More Time

February 13, 1999 – March 12, 1999: Monica – Angel Of Mine

March 13, 1999 – April 9, 1999: Cher – Believe

April 10, 1999 – May 7, 1999: TLC – No Scrubs

May 8, 1999 – June 11, 1999: Ricky Martin – Livin' La Vida Loca

June 12, 1999 – July 16, 1999: Jennifer Lopez – If You Had My Love

July 17, 1999 – July 23, 1999: Destiny's Child – Bills, Bills, Bills

July 24, 1999 – July 30, 1999: Will Smith featuring Dru Hill & Kool Moe Dee – Wild Wild West

July 31, 1999 – September 3, 1999: Christina Aguilera – Genie In A Bottle

September 4, 1999 – September 17, 1999: Enrique Iglesias – Bailamos

September 18, 1999 – October 8, 1999: TLC – Unpretty

October 9, 1999 – October 22, 1999: Mariah Carey featuring Jay-Z – Heartbreaker

October 23, 1999 – January 14, 2000: Santana featuring Rob Thomas – Smooth
Popular Movies
(according to boxofficemojo)
1. Star Wars Episode One: The Phantom Menace
2. The Sixth Sense
3. Toy Story 2
4. Austin Powers: The Spy Who Shagged Me
5. The Matrix
6. Tarzan
7. Big Daddy
8. The Mummy
9. Runaway Bride
10. Blair Witch Project
American Beauty, American Pie, Analyze This, Austin Powers: The Spy Who Shagged Me, Being John Malkovich, Big Daddy, The Blair Witch Project, Double Jeopardy, Fight Club, Galaxy Quest, The General's Daughter, The Green Mile, The Iron Giant, Man on the Moon, The Matrix, The Mummy, Mystery Men, Notting Hill, Office Space, Runaway Bride, The Sixth Sense, Sleepy Hollow, Star Wars: Episode I – The Phantom Menace, Stuart Little, Tarzan, Toy Story 2, The World Is Not Enough, Wild Wild West