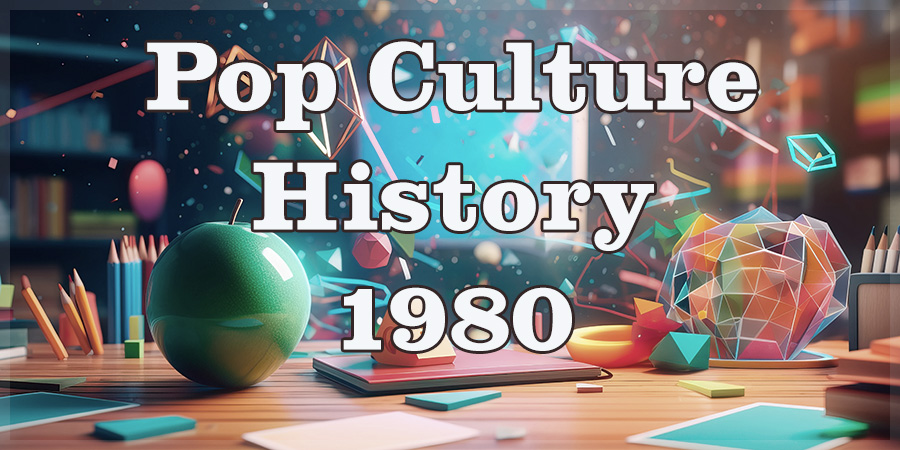 1980 Annual History Facts
Politics: President Jimmy Carter signed the (very controversial) Chrysler Loan Guarantee Act, granting the car company a $1.5 billion loan from the government.
The Supreme Court allowed gene patenting. Companies could 'own' genetically altered life forms and DNA.
The Top Song was Lady by Kenny Rogers
The Big Movies included The Empire Strikes Back, 9 to 5, and Stir Crazy
Lay's Potato Chips, 16 oz: $1.49
Rubick's Cube: $9.99
Minimum Wage in 1980: $3.10 per hour
The World Population was ~ 4,392,000,000
The Rubik's Cube was introduced in 1980. The sides are white, red, blue, orange, green, and yellow.
And… L'Osservatore Romano, the Vatican's official newspaper, has called the 1980 film The Blues Brothers a "Catholic classic" and "recommended viewing for Catholics everywhere."
World Series Champions
Philadelphia Phillies
Superbowl XIV Champions
Pittsburgh Steelers
National Basketball Association Champions
Los Angeles Lakers
NHL Stanley Cup Champions
New York Islanders
US Open Golf
Jack Nicklaus
US Open Tennis (Men Ladies)
John McEnroe/Chris Evert Lloyd
Wimbledon (Men/Women)
Bjorn Borg/Evonne Cawley
NCAA Football Champions
Georgia
NCAA Basketball Champions
Louisville
Bowl Games
Orange Bowl: January 1, 1980 – Oklahoma over Florida State
Rose Bowl: January 1, 1980 – USC over Ohio State
Sugar Bowl: January 1, 1980 – Alabama over Arkansas
Kentucky Derby
Genuine Risk
Westminster Kennel Best in Show Dog
Innisfree's Sierra Cinnar
Time Magazine's Man of the Year
Ronald Reagan
Miss America
Cheryl Prewitt (Ackerman, MS)
Miss USA
Shawn Weatherly (South Carolina) /Jineane Ford (Arizona)
Fashion Icons and Movie Stars
Kim Alexis, Carol Alt, Loni Anderson, Susan Anton, Barbara Bach, Catherine Bach, Kim Basinger, Valerie Bertinelli, Jacqueline Bisset, Christie Brinkley, Gia Carangi, Lynda Carter, Charo, Lydia Cornell, Bo Derek, Janice Dickinson, Morgan Fairchild, Farrah Fawcett, Carrie Fisher, Jane Fonda, Karen Graham, Erin Gray, Shelly Hack, Debbie Harry, Goldie Hawn, Marilu Henner, Lauren Hutton, Iman, Cheryl Ladd, Audrey Landers, Judy Landers, Jessica Lange, Olivia Newton-John, Stevie Nicks, Dolly Parton, Bernadette Peters, Victoria Principal, Tanya Roberts, Diana Ross, Jane Seymour, Brooke Shields, Jacquelyn Smith, Suzanne Somers, Donna Summer, Cheryl Tiegs, Charlene Tilton, Mary Woronov
"The Quotes"
"Pardon me, do you have any Grey Poupon? "
-Grey Poupon

"Who Shot JR?"
– Fans of CBS's Dallas television series

"Here's Johnny!"
– Jack Nicholson, in The Shining

"You dipstick"
– Sheriff Rosco P. Coltrane on The Dukes of Hazzard

Striker: "Surely you can't be serious?!"
Rumack: "I am serious… and don't call me Shirley."
– Robert Hays and Leslie Nielsen, in Airplane!

"No, I am your father" (NOT Luke, I am your father)
-Darth Vader, to a surprised Luke Skywalker

"Cinderella story. Outta nowhere. A former greenskeeper, now, about to become the Masters champion. It looks like a miracle…It's in the hole! It's in the hole! It's in the hole!"
– Bill Murray, in Caddyshack

At the launch of the channel in 1980, CNN's founder Ted Turner promised: "We won't be signing off until the world ends… We'll be… covering it live… when the end of the world comes, we'll play Nearer My God to Thee before we sign off."
1980 Pop Culture History
The 1980 comedy Airplane! is largely based on the 1957 drama Zero Hour! It follows the same plot, uses the same character name for the hero passenger, and parodies numerous scenes using the same dialog word for word.

Ice Ice Baby was the first rap single to reach #1 in the US in 1990. The first rap single to reach #1 in Canada was Rapper's Delight in 1980.

After being convicted of second-degree murder in 1911, 17-year-old Geidel served 68 years and 245 days in the New York prison system. He was released on May 7, 1980, at 86. Granted parole in 1974, at 80, he did not want to leave prison. He died at 93 in a nursing home.

There has been some debate about 3M's Post-it notes. The product was used in a marketing campaign in 1978 as 'Post N Peel', and sold nationally in 1980 as 'Post-it Notes.' New products are in 'test mode' all the time. We say 1980.

Gloria Gaynor won the Grammy for Best Disco Recording at the 22nd awards in 1980 (for 1979 songs), then discontinued the category.

The Trix rabbit has eaten the cereal twice: in 1976 and 1980.

James Earl Jones declined to have his name appear on the credits of both Star Wars: Episode IV – A New Hope (1977) and Star Wars: Episode V – The Empire Strikes Back (1980), claiming that he felt his contribution wasn't significant enough to warrant a credit.

The term Cyberpunk was coined by Bruce Bethke in 1980.

Since 1980, about 40% of the top honors in men's long-distance international athletics have gone to Kenyans from a single tribe, the Kalenjin.

William Bergstrom arrived at Binion's Horseshoe Casino in Las Vegas, Nevada, with two suitcases: one containing $777,000 in cash, the other empty. He placed the full amount on a single bet of dice which he won and packed the winnings in the empty suitcase.

Wheel of Fortune's Vanna White was discovered on The Price Is Right in 1980. She was one of the first four contestants and never made it on stage.

1980 the first 1 GB hard drive cost $40,000 and weighed over 500 pounds.

John Belushi disappeared off the set of The Blues Brothers one night. On a hunch, Dan Aykroyd went to the nearest house with lights on; "Belushi? He came in here an hour ago and raided my fridge. He's asleep on my couch," the confused homeowner informed him.

In 1980, Saddam Hussein received the key to Detroit.

Four FBI agents went to the Census Bureau's Colorado Springs office with warrants but were forced to leave. Courts upheld that no agency, including the FBI, can access Census data.

In 1970, America had over 50,000 pay toilets. By 1980, there were almost none.

While viewing 1980's The Blue Lagoon, John Gibbons, a herpetologist (reptile scientist), noticed iguanas in the background with characteristics unseen in documented species. He then traveled to Fiji, tracked & named the Fiji Crested Iguana.

The Roswell UFO incident was almost immediately dismissed and forgotten until The National Enquirer ran a story in 1980.

Cost of a Superbowl ad in 1980: $222,000

The Rhinoceros Party of Canada, a satirical, but registered political party in Canada, received 1.01% of the popular vote in the 1980 election, campaigning to repeal the law of gravity and provide higher education by building taller schools.

Even under a worst-case scenario, no Rubik's Cube is farther than 20 moves from being solved.
RIP, Scandals, Sad and Odd News
Robert Landsburg, while filming Mount St. Helens volcano eruption in 1980, realized he could not survive it, so he rewound the film into its case, put his camera in his backpack, and then laid himself on top of the backpack to protect the film for future researchers.
The declared winner of the 1980 Boston Marathon, Rosie Ruiz, was later stripped of her title after it was discovered that she snuck into the race a half-mile before the finish line.
The arcade game Pac-Man was originally named "Puck-Man." The name was changed to prevent vandals from changing the "P" to an "F."
Maureen Wilcox played the RI and the MA lotteries simultaneously and hit the correct numbers for both. Unfortunately, she picked all the correct MA numbers on her RI ticket and all the right RI numbers on her MA ticket.
After customs found 8 ounces of cannabis in his luggage, Paul McCartney sat in jail for ten days before being released without charges.
Saddam Hussein donated $450,000 to a Chaldean church in Detroit, earning himself the key to the city.
The Olympic Village used at Lake Placid 1980 Olympics became, and is, a functioning prison.
Convicted murderer Jack Abbot wrote Norman Mailer about his experiences behind bars. Impressed with his writing, Mailer helped get Abbot's book published and spearheaded Abbot's successful parole in 1980. Six weeks after being released, Abbot stabbed another man to death in New York City.
The mother of a 9-week-old child, Azaria Chamberlain, who went missing in 1980, insisted that a dingo took her baby. Six years after being convicted of murder and sentenced to life in prison, the child's jacket was found in a dingo lair. In 2012, it was officially ruled that a dingo had taken and killed the child.
Saudia Flight 163 made a successful emergency landing after the plane caught fire, but all 301 people on board died because the captain did not immediately order an emergency evacuation.
During the filming of Caligula, in Rome, Malcolm McDowell took the entire production crew out to dinner to celebrate an English football win against Italy. At the end of the expensive meal, he claimed not to have enough money and stuck the film's choreographer with the bill.
Cannibal Holocaust – a movie made in 1980 that was so graphic and realistic that the director, Ruggero Deodato, was arrested for making a "snuff" film – filming actual human deaths.
A Washington Post reporter named Janet Cooke fabricated a story about an 8-year-old heroin addict in 1980. The story, Jimmy's World, won a Pulitzer Prize, which she returned once the editors outed her.
In 2010, Japanese welfare officials went to check on a 111-year-old man, but the family refused to let them see him. Returning with police, they found his mummified corpse still wearing pajamas. The man had died in 1980, but the family hid his death to continue collecting his pension.
Upon arrival in Tokyo for Wings' highly anticipated 1980 sold-out tour, Paul McCartney was arrested at the airport after a search of his luggage revealed 219 grams of marijuana. The tour was canceled, and McCartney spent nine days in jail.
Rock Star Murder: John Lennon was shot and killed by a "fan" – Mark David Chapman.
Rock Star Deaths: John Bonham (alcohol poisoning), Bon Scott (drunk, choked on own vomit)
Firsts and the Biggest Christmas Gifts
Nintendo's Game & Watch, Rubik's Cube, Magna Doodle
Whole Foods was founded in Austin, Texas.
The computer modem was invented.
CNN began broadcasting from Atlanta, Georgia.
The Habits
Playing with a Rubik's Cube
Pac-Man, Centipede (arcade)

Reading The Official Preppy Handbook

Guessing 'Who shot J.R.?' (it was Kristin Shepard, played by Mary Crosby)

Reading The Covenant by James A. Michener
United States 1980 Census
Total US Population: 226,542,199
1. New York, New York – 7,071,639
2. Chicago, Illinois – 3,005,072
3. Los Angeles, California – 2,966,850
4. Philadelphia, Pennsylvania – 1,688,210
5. Houston, Texas – 1,595,138
6. Detroit, Michigan – 1,203,339
7. Dallas, Texas – 904,078
8. San Diego, California – 875,538
9. Phoenix, Arizona – 789,704
10. Baltimore, Maryland – 786,775
1980/81 Biggest Television Shows
(according to Nielsen TV Research)
1. Dallas (CBS)
2. The Dukes of Hazzard (CBS)
3. 60 Minutes (CBS)
4. M*A*S*H (CBS)
5. The Love Boat (ABC)
6. The Jeffersons (CBS)
7. Alice (CBS)
8. House Calls (CBS)
9. Three's Company (ABC)
10. Little House on the Prairie (NBC)
Popular Music Artists
The Biggest Pop Artists of 1980 include
Air Supply, Billy Joel, Bob Seger, Blondie, Boz Scaggs, The Brothers Johnson, Christopher Cross, Cliff Richard, Diana Ross, Donna Summer, Dr. Hook, Earth, Wind & Fire, Electric Light Orchestra (ELO), George Benson, Jermaine Jackson, John Lennon, KC & the Sunshine Band, Kenny Loggins, Kenny Rogers, Kim Carnes, Kool & the Gang, Micheal Jackson, Pat Benatar, Paul McCartney, Pink Floyd, Olivia Newton-John, Prince, Queen, Ray Parker Jr & Raydio, Shalamar, The Spinners, S.O.S. Band, Stevie Wonder, Teddy Pendergrass, The Whispers

(Data is compiled from charts, including Billboard's Pop, Rock, Airplay, R&B/Dance, and Singles Charts. The Hot 100 is the primary chart used for this list.)
Number One Hits of 1980
December 22, 1979 – January 4, 1980: Rupert Holmes – Escape (The Piña Colada Song)

January 5, 1980 – January 18, 1980: KC and the Sunshine Band – Please Don't Go

January 19, 1980 – February 15, 1980: Michael Jackson – Rock with You

February 16, 1980 – February 22, 1980: Captain & Tennille – Do That to Me One More Time

February 23, 1980 – March 21, 1980: Queen – Crazy Little Thing Called Love

March 22, 1980 – April 18, 1980: Pink Floyd – Another Brick in the Wall

April 19, 1980 – May 30, 1980: Blondie – Call Me

May 31, 1980 – June 27, 1980: Lipps Inc – Funkytown

June 28, 1980 – July 18, 1980: Paul McCartney – Coming Up (Live at Glasgow)

July 19, 1980 – August 1, 1980: Billy Joel – It's Still Rock and Roll to Me

August 2, 1980 – August 29, 1980: Olivia Newton-John – Magic

August 30, 1980 – September 5, 1980: Christopher Cross – Sailing

September 6, 1980 – October 3, 1980: Diana Ross – Upside Down

October 4, 1980 – October 24, 1980: Queen – Another One Bites the Dust

October 25, 1980 – November 14, 1980: Barbra Streisand – Woman in Love

November 15, 1980 – December 26, 1980: Kenny Rogers – Lady

December 27, 1980 – January 30, 1981: John Lennon – (Just Like) Starting Over
Popular Movies
(according to boxofficemojo)
1. The Empire Strikes Back
2. 9 to 5
3. Stir Crazy
4. Airplane!
5. Any Which Way You Can6. Private Benjamin
7. Coal Miner's Daughter
8. Smokey and the Bandit II
9. The Blue Lagoon
10. The Blues Brothers
9 to 5, Airplane!, Any Which Way You Can, The Blue Lagoon, The Blues Brothers, Brubaker, Caddyshack, Cheech and Chong's Next Movie, Coal Miner's Daughter, Dressed To Kill, Fame, Flash Gordon, Friday the 13th, Herbie Goes Bananas, The Jazz Singer, Little Darlings, Ordinary People, Popeye, Private Benjamin, Seems Like Old Times, The Shining, Smokey and the Bandit II, Stir Crazy, Star Wars: Episode V – The Empire Strikes Back, Urban Cowboy