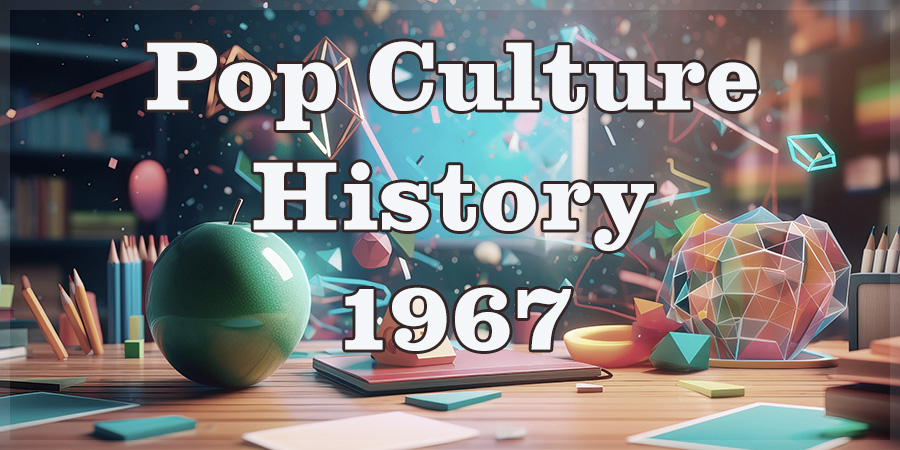 1967 Annual History Facts
Politics: The Twenty-fifth Amendment to the US Constitution clarifies what happens upon the death, removal, or resignation of the President or Vice President and how the Presidency is temporarily filled if the President becomes disabled and cannot fulfill the responsibilities of the office.
The Top Song was To Sir With Love by LuLu
The Big Movies included The Jungle Book, The Graduate, and Guess Who's Coming to Dinner
Price of 1/2 gal Tropicana Orange Juice in 1967: 49 cents
The World Population was ~ 3,463,000,000
In late 1967, the first successful heart transplant was performed by Dr. Christian Barnard in South Africa.
The first automatic cash machine was installed, in the office of the Barclays Bank in Enfield, England.
Aretha Franklin won the Grammy for Best Female R&B Vocal Performance in 1967, the year the category was created. She also won it in 1968, 1969, 1970, 1971, 1972, 1973, and 1974.
And… In October 1967, Roger Patterson recorded his now famous film, reputedly a Bigfoot, at Bluff Creek, California.
World Series Champions
St. Louis Cardinals
NFL Champions
Green Bay Packers
AFL Champions
Oakland Raiders
Superbowl I Champions
Green Bay Packers
National Basketball Association Champions
Philadelphia 76ers
NHL Stanley Cup Champions
Toronto Maple Leafs
US Open Golf
Jack Nicklaus
US Open Tennis (Men Ladies)
Jack Newcombe/Billie Jean King
Wimbledon (Men/Women)
John Newcombe/Billie Jean King
NCAA Football Champions
USC
NCAA Basketball Champions
UCLA
Bowl Games
Orange Bowl: January 2, 1967 – Florida over  
Rose Bowl: January 2, 1967 – Purdue over USC
Sugar Bowl: January 2, 1967 – Alabama over Nebraska
Kentucky Derby
Proud Clarion
Westminster Kennel Best in Show Dog
Bardene Bingo
Time Magazine's Man of the Year
Lyndon B. Johnson
Miss America
Jane Jayroe (Lavern, OK)
Miss USA
Sylvia Hitchcock (Alabama)/ Cheryl Patton (Florida)
Fashion Icons and Movie Stars
Ursula Andress, Ann-Margret, Martine Beswick, Carol Burnett, Claudia Cardinale, Veronica Carlson, Julie Christie, 'Wilhelmina' Cooper, Yvonne Craig, Catherine Deneuve, Angie Dickinson, Faye Dunaway, Barbara Eden, Lola Falana, Barbara Feldon, Jane Fonda, Audrey Hepburn, Eartha Kitt, Marta Kristen, Virna Lisi, Sophia Loren, Tina Louise, Peggy Moffitt, Elizabeth Montgomery, Caroline Munro, Julie Newmar, Ingrid Pitt, Diana Rigg, Edie Sedgwick, Elke Sommer, Sharmila Tagore, Sharon Tate, Elizabeth Taylor, Marlo Thomas, Marilyn Tindall, Penelope Tree, Twiggy, Veruschka, Raquel Welch, Dawn Wells
"The Quotes"
"What we have here is a failure to communicate."
– Strother Martin in Cool Hand Luke

"We rob banks."
– Warren Beatty, as Clyde Barrow, in Bonnie and Clyde
"Because I'm worth it."
– L'Oréal
"Our repairmen are the loneliest guys in town."
– Maytag Appliances
"Mrs. Robinson, you're trying to seduce me… aren't you?"
– Dustin Hoffman in The Graduate
"They call me MISTER TIBBS"
– Sidney Poitier, in In The Heat Of The Night

"Plastics."
– Walter Brooke, in The Graduate
"Get the hell out of my race and give me those numbers!"
-John "Jock" Semple (Boston Marathon Organizer)
1967 Pop Culture History
Shizo Kanakuri has the record for the slowest time in the men's Olympic marathon: 54 years, eight months, six days, 5 hours, 32 minutes, and 20.3 seconds. He disappeared in 1912 and was given a chance to finish in 1967. He said, "Along the way, I got married, had six children and ten grandchildren."
Doritos first sold nationally as a basic corn tortilla chip in 1967, Nacho Cheese wasn't sold until 1972, and much later Cool Ranch in 1986.
Pringles were first introduced in 1967.
The National Heart Institute and the Atomic Energy Agency began a ten-year effort to develop an artificial heart powered by plutonium-238. The atomic hearts would have pumped human blood with the energy provided by the radioactive decay of that isotope.
Pamela Anderson was officially Canada's "Centennial Baby", having been the first baby born on July 1, 1967, the 100th anniversary of Canada's official founding.
Pink Floyd was recording their first studio album, The Piper At the Gates of Dawn, in EMI's Abbey Road Studios (Studio 3). Meanwhile, the Beatles were working on Sgt. Pepper's Lonely Hearts Club Band next door (Studio 2).
In January, The Beatles recorded a 14-minute avant-garde performance that remains unreleased today, known as Carnival of Light, and is considered the holy grail of missing Beatles songs.
Paul McCartney came up with the name "Sgt. Pepper" when he misheard someone ask to pass the salt and pepper
Richard Proenneke built an 11x14ft cabin in the Alaskan wilderness. All the materials came from his surroundings except for a handful of nails, tar paper, and some plastic sheeting.
The Berkeley Barb, a counterculture newspaper, published a fake story about extracting hallucinogenic chemicals from bananas to raise moral questions about banning drugs. People didn't realize it was a hoax and began smoking banana peels to get high.
The US government required TV stations to air anti-smoking commercials, even if the organizations that made them couldn't pay for the airtime.
The United States and Russia signed a treaty agreeing not to nuke the Moon.
Traffic in Sweden switched from driving on the left-hand side of the road to the right, on September 3, 1967. Approximately 90 percent of Swedes already drove left-hand drive (LHD) vehicles at the time.
These years use the same calendars: 2017, 2006, 1995, 1989, 1978, 1967, 1961, 1950, 1939, 1933, and 1922.
Major William "Pete" Knight flew a plane at Mach 6.7 or 4,520 mph (7,274 km/h), a speed which remains the fastest anyone has ever flown an aircraft.
The largest Emerald, the 'Gachala Emerald,' was found. It weighs in at 858 carats.
Protesters requested a permit to levitate the Pentagon 300 feet in the air, through songs and chants, to exorcise it of its evil and end the Vietnam War. Authorities agreed to only 3 feet.
Religious practices were officially banned in Albania between 1967 to 1991. This made Albania the first and only constitutionally atheist state ever to exist.
The original London Bridge in London was relocated to Lake Havasu City, Arizona, in 1967. Built in the 1830s and spanning the River Thames, it was taken apart, and the bricks were numbered to be reconstructed at the Lake Havasu, Arizona, location.
Audrey Hepburn suffered from a severe water phobia. While shooting Two for the Road, Albert Finney had to throw her into a swimming pool. During filming, divers were placed off-camera for her comfort. The fear on her face during the scene is real.
The Monkees sold more records than The Beatles and Rolling Stones combined in 1967.
The McDonald's Big Mac sandwich had two previous names failing in the marketplace: the Aristocrat, which consumers found difficult to pronounce and understand, and Blue Ribbon Burger. The Big Mac debuted at a Uniontown, Pennsylvania restaurant this year, selling for 45 cents.
Having been tested in a few outlets, 7-11's Slurpees became available in all locations in 1967.
There are no current statistics on religion in Tanzania. Home to many faiths, its census hasn't asked about religion since this year to avoid fights over which was the biggest.
The cost of a Superbowl ad in 1967: $42,000.
The 'Shag Harbor UFO Crash' in Nova Scotia, Canada, was one of the few incidents where a Government agency formally declared UFO involvement.
S.E. Hinton wrote The Outsiders when she was only 15 years old and has sold 500k copies yearly since 1967.
Haribo says green gummy bears are strawberry (not lime), and red is raspberry.
The President of the University of Oregon missed out on having The Graduate filmed at the school in 1967. Not wanting to make the same mistake again, he allowed another movie to be filmed around a decade later. That movie was Animal House.
South African doctor Christiaan Barnard performed the first heart transplant.
The Last Emperor of China lived until 1967, and was a communist prisoner for years tending a vegetable garden simply as "Prisoner No. 981."
RIP, Scandals, Sad and Odd News
Olympic champion Ewa Klobukowska failed the newly introduced gender test before the European Cup 1967. Consequently, she was banned from competing and stripped of her records; a year later, she gave birth to her first child.
In the 1960s, there were numerous sightings of a "Mothman" in Point Pleasant, West Virginia. After the 1967 collapse of the Silver Bridge that killed 46 people, with two more never found… no one ever saw it again.
Australian prime minister Harold Holt served from 1966 to 1967. One day, while in office, he went swimming and disappeared without a trace.
The Mothers of Invention did not play at the Monterey Pop Festival because Frank Zappa "refused to share a stage with the inferior San Francisco bands" (Jefferson Airplane, Janis Joplin, and the Grateful Dead).
Soldiers testing Agent Orange in Canada were told the chemical was completely safe and sprayed it on each other to cool off. It causes cancer.
Political outlaw Che Guevara was shot nine times during his execution before he was pronounced dead on October 9, 1967. The Bolivian Army did this so there was no hope of him escaping prison and no drama concerning a trial.
Despite what you may still hear today, Walt Disney was not frozen right after he died in late 1966.
The first woman to run the Boston Marathon, Katherine Switzer, using the fake name K.Switzer, was chased down by organizers who hadn't realized at the start that she was a woman: "Race official Jock Semple attempted to remove her from the race, and is noted to have shouted, 'Get the hell out of my race and give me those numbers.'"
Sitting close to the TV will not damage your eyesight. The myth spread after it was discovered that TVs made before 1967 emitted excessive radiation.
Airplane Celebrity Death: Otis Redding
Automobile Celebrity Death: Jayne Mansfield
According to Article VIII of the Outer Space Treaty of 1967, you can be arrested for a crime committed anywhere in the known universe!
Countercultural icon Abbie Hoffman led a group of anticapitalists to the New York Stock Exchange, where they dropped dollar bills from the balcony onto the floor as traders scrambled to retrieve the cash. He also led a group of 50,000 people and tried to levitate the Pentagon with their combined psychic power.
The Doors earned a lifetime ban from the Ed Sullivan show after agreeing to censor the lyrics to their hit Light My Fire, but ended up singing the original lyrics anyway.
Firsts and the Biggest Christmas Gifts
Kerplunk, Johnny Astro, TALKING G.I. Joe action figures, Mega Bloks, Newton's cradle, Uncle Fester's Mystery Light Bulb, Lit-Brite, Ants in the Pants Game
Cinefantastique Magazine (1967-2006) publication dates
Teen Beat Magazine (1967-2007) publication dates
The first handheld calculator was invented.
Rolling Stone began publication. The first issue sold about 5,000 copies.
The Habits
Ouija board (from Parker Brothers)
Reading The Arrangement by Elia Kazan
Reading The Wapshot Chronicle by John Cheever
1967/68 Biggest Television Shows
(according to Nielsen TV Research)
1. The Andy Griffith Show (CBS)
2. The Lucy Show (CBS)
3. Gomer Pyle U.S.M.C. (CBS)
4. Gunsmoke (CBS)
5. Family Affair (CBS)
6. Bonanza (NBC)
7. The Red Skelton Show (CBS)
8. The Dean Martin Show (NBC)
9. The Jackie Gleason Show (CBS)
10. Saturday Night at the Movies (NBC)
11. Bewitched (ABC)
Popular Music Artists
The Biggest Pop Artists of 1967 include
Aretha Franklin, The Association, The Beatles, Bettye Swan, Carla Thomas, Dionne Warwick, The 4 Seasons, The Four Tops, Freddie Scott, Gene Chandler, Gladys Knight & the Pips, The Hollies, Jackie Wilson, James Brown, Joe Tex, Jr. Walker & the All Stars, King Curtis, The Lovin Spoonful, The Mamas & the Papas, Martha and the Vandellas, The Marvelettes, Marvin Gaye, The Monkees, Nancy Sinatra, Otis Redding, Paul Revere & the Raiders, Percy Sledge, Petula Clark, The Rascals, Sam & Dave, Smokey Robinson & the Miracles, Stevie Wonder, The Supremes, Tammi Terrell, Tommy James & the Shondells, Wilson Pickett

(Data is compiled from charts, including Billboard's Pop, Rock, Airplay, R&B/Dance, and Singles Charts. The Hot 100 is the primary chart used for this list.)
Number One Hits of 1967
December 31, 1966 – February 17, 1967: The Monkees – I'm a Believer

February 18, 1967 – March 3, 1967: The Buckinghams – Kind of a Drag

March 4, 1967 – March 10, 1967: The Rolling Stones – Ruby Tuesday

March 11, 1967 – March 17, 1967: The Supremes – Love Is Here and Now You're Gone

March 18, 1967 – March 24, 1967: The Beatles – Penny Lane

March 25, 1967 – April 14, 1967: The Turtles – Happy Together

April 15, 1967 – May 12, 1967: Nancy Sinatra and Frank Sinatra – Somethin' Stupid

May 13, 1967 – May 19, 1967: The Supremes – The Happening

May 20, 1967 – June 2, 1967: Young Rascals – Groovin'

June 3, 1967 – June 30, 1967: Aretha Franklin – Respect

July 1, 1967 – July 28, 1967: The Association – Windy

July 29, 1967 – August 18, 1967: The Doors – Light My Fire

August 19, 1967 – August 25, 1967: The Beatles – All You Need Is Love

August 26, 1967 – September 22, 1967: Bobbie Gentry – Ode to Billie Joe

September 23, 1967 – October 20, 1967: Box Tops – The Letter

October 21, 1967 – November 24, 1967: Lulu – To Sir With Love

November 25, 1967 – December 1, 1967: Strawberry Alarm Clock – Incense and Peppermints

December 2, 1967 – December 29, 1967: The Monkees – Daydream Believer

December 30, 1967 – January 19, 1968: The Beatles – Hello, Goodbye
Popular Movies
Bonnie and Clyde, Cool Hand Luke, The Dirty Dozen, Far From the Madding Crowd, The Gnome-Mobile, The Graduate, Guess Who's Coming to Dinner, Hombre, How to Succeed in Business Without Really Trying, In Cold Blood, In Like Flint, In the Heat of the Night, The Jungle Book, Point Blank, Son of Godzilla, Valley of the Dolls, Wait Until Dark, Week End, You Only Live Twice