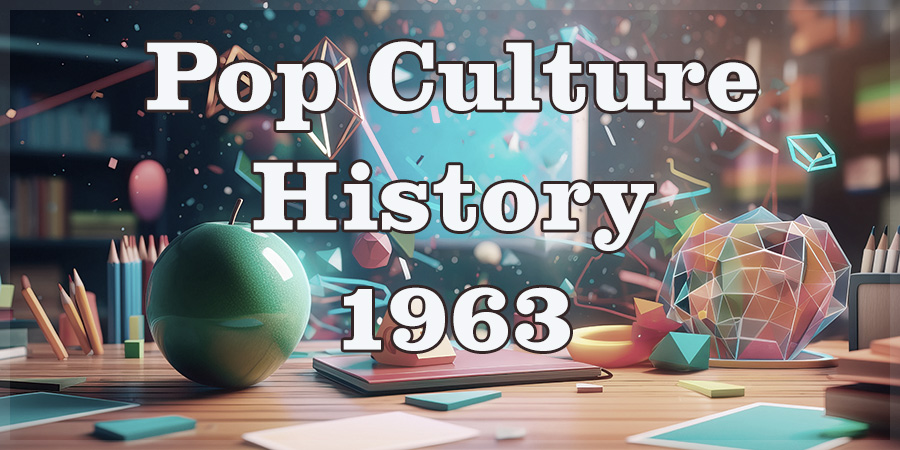 1963 Annual History Facts
Politics: The US Supreme Court ruled no locality may require recitation of the Lord's Prayer or Bible verses in public schools in Abington School District v. Schempp.
The Top Song was Sugar Shack by Jimmy Gilmore and the Fireballs
The Big Movies included Cleopatra, Dr. No, and It's a Mad, Mad, Mad, Mad World
Minimum Wage in 1963: $1.25 per hour
Soviet cosmonaut Valentina Tereshkova became the first woman to travel into space.
Price of VO5 Shampoo, 15 oz size: 77 cents
The World Population was ~ 3,211,000,000
Frank Sinatra's son was kidnapped in 1963, and Sinatra paid $240,000 in ransom before his son was safely returned. The kidnappers were caught, and most of the ransom was recovered.
And… Swiss drug company Roche Labs introduced the prescription drug Valium.
World Series Champions
Los Angeles Dodgers
NFL Champions
Chicago Bears
AFL Champions
San Diego Chargers
National Basketball Association Champions
Boston Celtics
NHL Stanley Cup Champions
Toronto Maple Leafs
US Open Golf
Julius Boros
US Open Tennis (Men Ladies)
Rafael Osuna/Maria Bueno
Wimbledon (Men/Women)
Chuck McKinley/Margaret Smith
NCAA Football Champions
Texas
NCAA Basketball Champions
Loyola
Bowl Games
Orange Bowl: January 1, 1963 – Alabama over Oklahoma
Rose Bowl: January 1, 1963 – USC over Wisconsin
Sugar Bowl: January 1, 1963 – Ole Miss over Arkansas
Kentucky Derby
Chateaugay
Westminster Kennel Best in Show Dog
Wakefield's Black Knight
Time Magazine's Man of the Year
Martin Luther King, Jr
Miss America
Jacquelyn Mayer (Sandusky, OH)
Miss USA
Marite Ozers (Illinois)
Fashion Icons and Movie Stars
Brigitte Bardot, Martine Beswick, 'Wilhelmina' Cooper, Doris Day, Patty Duke, Annette Funicello, Audrey Hepburn, Anna Karina, Julie London, Sophia Loren, Jayne Mansfield, Mary Tyler Moore, Julie Newmar, Kim Novak, Donna Reed, Jean Shrimpton, Elizabeth Taylor, Tuesday Weld
"The Quotes"
"From Dallas, Texas, the flash, apparently official … President Kennedy died at 1 p.m. Central Standard Time – 2:00 Eastern Standard Time, some 38 minutes ago."
– Walter Cronkite
"Exterminate"
– Dalek, Doctor Who
"Oh, I wish I were an Oscar Meyer wiener. That is what I truly want to be."
– Oscar Meyer kids
Jackie Kennedy wore her blood-splattered pink Chanel suit for the rest of the day after JFK's assassination. When asked to change her outfit, she replied, "I want them to see what they have done to Jack."
After the assassination of John F. Kennedy, Martin Luther King Jr. said to his wife, "This is what is going to happen to me also. I keep telling you, this is a sick society."
1963 Pop Culture History
The last day of shooting the Gilligan's Island pilot was Friday, November 22, 1963, when JFK was assassinated. This was commemorated in the opening credits as the S.S. Minnow leaves the harbor with an American flag at half-mast.

Valentia Tershkova was the first woman in space, on the Vostok 6. She orbited Earth 48 times.

In 1963, San Francisco Giants Manager Alvin Dark joked, "They'll put a man on the moon before (Giants pitcher) Gaylord Perry hits a home run." On July 20, 1969, less than an hour after Neil Armstrong's historic moonwalk, Perry smacked his first career home run.

Kodak introduced the Instamatic camera.

President John F. Kennedy was a huge James Bond fan. He viewed an early print of 'From Russia with Love' at the White House on Nov 21st, 1963. It was the last film he ever saw; he was killed the next day in Dallas.

2,000-year-old seeds were discovered in 1963 inside an ancient jar in Israel. They were planted in 2005, and a tree that had been extinct for over 1800 years sprouted.

The original plans for the Sydney Opera House projected a cost of $7 million and a completion date of January 26, 1963. It was finished in 1973, ten years late, and for $102 million, some 1,500% over budget.

Some Barbie dolls came with a book entitled How to Lose Weight, which advised "Don't eat!" and a bathroom scale permanently set at 110 lbs.

A&W was the first chain restaurant to offer the Bacon Cheeseburger.

In 1963, the US Air Force launched 480 million MIT-designed tiny copper needles to guarantee the ability to communicate globally if hostile forces cut undersea cables.

Vexations is an 18-hour-long piece of music. After a public performance in New York in 1963, only six people remained to the end; one stood up and shouted, "Encore!"

Andy Warhol produced and directed a film called Sleep, which is 5 hours and 21 minutes long and consists solely of one long take of his close friend, John Giorno, sleeping. Only nine people attended the premiere and two left during the first hour.

Boxer Sonny Liston was the first to win a million dollars in a single bout when he beat Floyd Patterson, in Chicago on September 25th.

Charlton Heston accompanied Dr. Martin Luther King, Jr. at the March on Washington in 1963.

Martin Luther King's "I Have a Dream" speech isn't available in the public domain, and in 1963, King sued Twentieth Century Fox Records Company to stop the unauthorized sale of records of the 17-minute address.

The movie Charade entered the public domain immediately upon release because Universal Pictures published it with an invalid copyright notice

Elizabeth Taylor was the first actress to earn $1,000,000 for a single film – Cleopatra.

The British military once took a Vickers WW1 Machine Gun and fired it continuously for seven days to see when and if it would malfunction. It Didn't.

Harry Smith, the top bowler in 1963, made more money than MLB MVP Sandy Koufax and NFL MVP Y.A. Tittle combined.

Colt 45 malt liquor was not named after the handgun. It was named after Jerry Hill, the 1963 running back for the Baltimore Colts, whose jersey number was #45.

The "zip" from "zip code" stands for "Zone Improvement Plan". It was implemented in 1963 as a means of streamlining the mailing system.

Kyu Sakamoto was the first Asian to have a number-one song on the Billboard Hot 100 in 1963 with Sukiyaki – the only Japanese song to top the chart.

John Lennon had a sore throat when The Beatles recorded their cover of the Isley Brothers' Twist and Shout and the whole of their 1963 'Please Please Me' album.

Vietnamese Buddhist monk Thich Quang Duc publicly immolated himself on a street in Saigon to protest the anti-Buddhist policies of President Ngo Dinh Diem.

Mississippi physician James D. Hardy performed the first successful lung transplant.

Stephen Hawking was told he had two years to live by his doctors back in 1963.
RIP, Scandals, Sad and Odd News
John F. Kennedy, Lee Harvey Oswald, and Jack Ruby died at the Parkland Hospital.
A Buddhist monk named Thich Quang Quc burned himself in protest of the Diem regime of South Vietnam in Saigon in 1963. His heart was the only body part that didn't burn despite trying to burn it twice more with cremation.
The rivalry between Bette Davis and Joan Crawford was so strong that, when Davis was nominated for an Oscar in 1963, Crawford arranged with the other nominees to collect the award on their behalf. Anne Bancroft won, and Crawford read her speech for her, while Davis watched backstage. #teamcrawford
The San Diego Chargers became the first professional sports team to use steroids. After an abysmal 4-10 record the previous year, they won the AFL Championship, crushing the Boston Patriots by a score of 51-10.
The Stanley Cup Champions 1963 Toronto Maple Leafs, 1972 Boston Bruins, and 1981 New York Islanders have their engravings misspelled as Leaes, BQSTQN, and Ilanders. There are also several player name errors.
In 1963, after the South African Football Association was suspended from FIFA due to apartheid, they attempted to regain their membership by proposing sending an all-white team to the 1966 World Cup, and an all-black team to the 1970 World Cup. Their proposal was rejected.
The Italian government constructed a dam in 1959 despite multiple warnings of the region's instability. In 1963, a landslide into the reservoir behind the dam triggered a tsunami over 800 ft high that breached the dam and killed nearly 2000 people, leaving a 200 ft deep impact crater.
Janis Joplin was voted "Ugliest Man on Campus" at the University of Texas in 1963
Donald Currey cut down a tree to retrieve his drill bit after it got stuck when he tried to core it to study climate effects. After studying the tree's core, he found that he'd just cut down the oldest tree (at least 4862 years old) found to date.
Airplane Celebrity Death: Patsy Cline
After the JFK assassination, Jackie Kennedy was still wearing the blood-covered pink dress during the emergency swearing-in of Johnson. She wanted the people to see "What they had done."
Presidential assassination: John F Kennedy & Magic Bullet Theory. The JFK assassination is the mother of all modern conspiracy theories. After President Kennedy died in 1963, the television networks aired four days of commercial-free coverage of his funeral, burial, and other proceedings, costing them about $100 million in lost advertising revenue. 93% of all American homes watched some coverage. What happened to JFK's brain?
John F. Kennedy, Aldous Huxley, and C.S. Lewis all died on the same day, November 22, 1963. Famous murderer Robert Stroud, 'the Birdman of Alcatraz,' died late the day before, November 21. The Kennedy assassination kept his death out of the headlines of most newspapers. Aldous Huxley, author of Brave New World, was at the forefront of the counterculture's experimentation with psychedelics, which led to his 1954 work The Doors of Perception. He was dying from cancer and asked his wife to inject him with 100 µg of LSD. He died later that day.
June 17 – The Supreme Court ruled that laws requiring reciting The Lord's Prayer or Bible verses in public schools were unconstitutional.
Firsts and the Biggest Christmas Gifts
Mouse Trap, Allan Sherwood (Barbie and Ken's friend), Trolls, Easy Bake Oven, Big Loo
The Habits
Troll Dolls were everywhere.
Betty Friedan's The Feminine Mystique helped establish the Feminist Movement
Reading The Shoes of Fisherman by Morris L. West
1963/64 Biggest Television Shows
(according to Nielsen TV Research)
1. Beverly Hillbillies (CBS)
2. Bonanza (NBC)
3. The Dick Van Dyke Show (CBS)
4. Petticoat Junction (CBS)
5. The Andy Griffith Show (CBS)
6. The Lucy Show (CBS)
7. Candid Camera (CBS)
8. The Ed Sullivan Show (CBS)
9. The Danny Thomas Show (CBS)
10. My Favorite Martian (CBS)
Popular Music Artists
The Biggest Pop Artists of 1963 include
The Angels, The Beach Boys, Bobby Bland, Bobby Vee, Bobby Vinton, Brenda Lee, Brook Benton, Ray Charles, The Chiffons, Chubby Checker, Connie Francis, The Crystals, Dion, The Dovells, Elvis Presley, The 4 Seasons, Garnet Mimms & the Enchanters, Inez Foxx, Jackie Wilson, Leslie Gore, Little Peggy March, Major Lance, Martha and the Vandellas, The Marvelettes, Marvin Gaye, Mary Wells, Paul & Paula, Peter, Paul & Mary, Ray Charles, Ricky Nelson, The Ronettes, Roy Orbison, Rufus Thomas, Sam Cooke, Steve Lawrence, Stevie Wonder, The Tymes

(Data is compiled from charts, including Billboard's Pop, Rock, Airplay, R&B/Dance, and Singles Charts. The Hot 100 is the primary chart used for this list.)
Number One Hits of 1963
December 22, 1962 – January 11, 1963: The Tornados – Telstar

January 12, 1963 – January 25, 1963: Steve Lawrence – Go Away Little Girl

January 26, 1963 – February 8, 1963: The Rooftop Singers – Walk Right In

February 9, 1963 – March 1, 1963: Paul & Paula – Hey Paula

March 2, 1963 – March 22, 1963: The Four Seasons – Walk Like A Man

March 23, 1963 – March 29, 1963: Ruby & the Romantics – Our Day Will Come

March 30, 1963 – April 26, 1963: The Chiffons – He's So Fine

April 27, 1963 – May 17, 1963: Little Peggy March – I Will Follow Him

May 18, 1963 – May 31, 1963: Jimmy Soul – If You Wanna Be Happy

June 1, 1963 – June 14, 1963: Lesley Gore – It's My Party

June 15, 1963 – July 5, 1963: Kyu Sakamoto – Sukiyaki

July 6, 1963 – July 19, 1963: The Essex – Easier Said Than Done

July 20, 1963 – August 2, 1963: Jan and Dean – Surf City

August 3, 1963 – August 9, 1963: The Tymes – So Much in Love

August 10, 1963 – August 30, 1963: Little Stevie Wonder – Fingertips (pt. II)

August 31, 1963 – September 20, 1963: The Angels – My Boyfriend's Back

September 21, 1963 – October 11, 1963: Bobby Vinton – Blue Velvet

October 12, 1963 – November 15, 1963: Jimmy Gilmer and the Fireballs – Sugar Shack

November 16, 1963 – November 22, 1963: Nino Tempo and April Stevens – Deep Purple

November 23, 1963 – December 6, 1963: Dale & Grace – I'm Leaving It Up to You

December 7, 1963 – January 3, 1964: The Singing Nun – Dominique
Popular Movies
8 1/2, The Birds, Bye Bye Birdie, Charade, Cleopatra, From Russia With Love, The Great Escape, The Haunting, Hud, It's a Mad Mad Mad Mad World, Kissin Cousins, Lilies of the Field, The Nutty Professor, The Pink Panther, Shock Corridor, Son of Flubber, The Sword in the Stone, Tom Jones