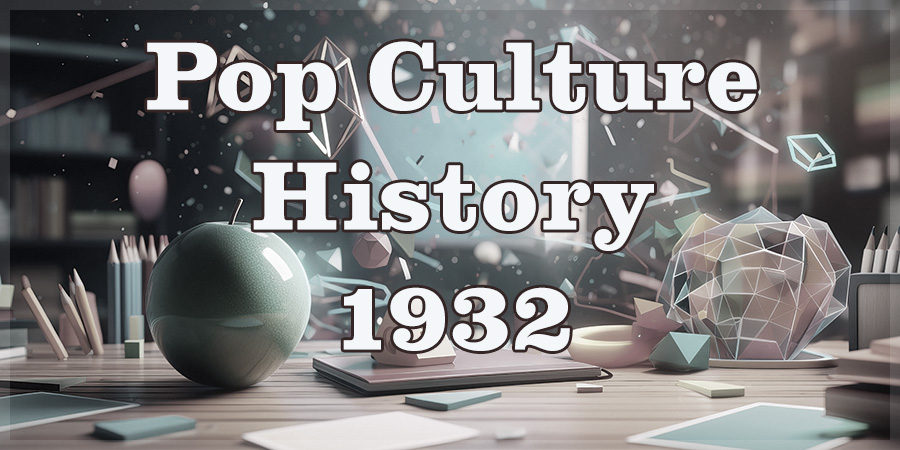 1932 Annual History Facts
US Politics: 5,000 World War I veterans set up camp throughout Washington, DC, to force Congress to pay their bonus immediately. They were forcibly removed by tanks and cavalry but ended with about half of what was promised.
Charles Lindbergh, Jr, the infant son of National Hero Charles and Anne Lindbergh, was kidnapped from the family home near Hopewell, New Jersey.
Pop Standards include Night and Day, I've Got the World on a String, and Smoke Gets in Your Eyes.
The Big Movies included Shanghai Express, The Sign of the Cross, and The Kid From Spain
Price of a postage stamp in 1932: 3 cents
US Life Expectancy: Males: 61.0 years, Females: 63.5 years
The World Population was ~ 2,164,000,000
Nielsen company founder Arthur C. Nielsen invented "market share" in 1932, becoming the first to offer market research for media companies
And… The text This is a work of fiction. Any similarity to actual persons, living or dead, is purely coincidental at the end of film credits because the Russian prince who killed Rasputin sued MGM for not accurately depicting Rasputin's murder in their 1932 film Rasputin and the Empress.
World Series Champions
New York Yankees
NFL Champions
Chicago Bears
Stanley Cup Champions
Toronto Maple Leafs
US Open Golf
Gene Sarazan
US Open Tennis (Men Ladies)
H. Ellsworth Vines/Helen H. Jacobs
Wimbledon (Men/Women)
Ellsworth Vines/Helen Moody
NCAA Football Champions
Michigan & USC
Bowl Game
Rose Bowl: January 1, 1932 – USC over Tulane
Kentucky Derby
Burgoo King
Westminster Kennel Best in Show Dog
Nancolleth Markable
Time Magazine's Man of the Year
Franklin D. Roosevelt
Miss America
none
1932's Fresh Faces and Top Celebrities
Josephine Baker, Joan Blondell, Louise Brooks, Claudette Colbert, Joan Crawford, Marion Davies, Marlene Dietrich, Kay Francis, Greta Garbo, Jean Harlow, Katharine Hepburn, Myrna Loy, Dolores Del Rio, Barbara Stanwyck, Thelma Todd, Mae West
"The Quotes"
"I want to be alone."
– Greta Garbo, in Grand Hotel

"Ah'd like to kiss ya, but ah jest washed ma hair."
– Bette Davis, in Cabin in the Cotton

When the BBC World Service started broadcasting in 1932, it repeatedly announced, "The programs will neither be very interesting nor very good."
1932 Pop Culture History
Babe Ruth did not call a home run in the 1932 World Series. #urbanlegend
Betty Boop was originally supposed to be an anthropomorphic dog. They changed her to human but kept her dog ears from 1930 to 1932. The 1932 Betty Boop short "Minnie the Moocher" features the earliest known film of Cab Calloway performing.
Al Capone's Cadillac was seized by the government in 1932 and later used as Franklin Roosevelt's limousine
The winter of 1932 was so cold that Niagara Falls froze completely solid.
The largest bass fish ever caught was reeled in by George Perry and weighed 22 pounds, 4 ounces.
20-month-old Charles Lindbergh Jr was kidnapped on March 1st and found dead on May 21st. Bruno Hauptmann was found guilty of the crime and executed in 1936.
James Chadwick discovered the neutron. Carl David Anderson discovered the positron.
The first Summer Olympics to turn a profit was in 1932 in Los Angeles. The second was in 1984, also in Los Angeles. Because of the Great Depression, only one city made a bid to host the 1932 Olympics: Los Angeles. More than half of the nations that had gone to the 1928 games couldn't afford to send a team.
The mesmerizing hook from White Town's classic 90s tune Your Woman is sampled from Al Bowlly's 1932 song My Woman.
In May 1932, Al Capone was sent to Atlanta for eleven years, the toughest of the federal prisons. He obtained special privileges from the authorities, such as furnishing his cell with a mirror, typewriter, rugs, and a set of the Encyclopedia Britannica.
In the summer of the 1932 Olympics, India beat the USA 24 – 1 in Field Hockey. Idia won Gold. Japan won Silver, and the US won Bronze. There were no other contestants.
Aladár Gerevich won his first gold medal in six sequential Olympics between 1932 and 1960. It probably would have been 8, but the 1940 and 1944 games were canceled due to World War II.
Even though the 1932 NFL Championship Game was played on an 80-yard field, at the Chicago Stadium, the ball was moved back 20 yards once the offense crossed midfield, simulating a regular 100-yard field.
Ethan Allen Interiors opened in Beecher Falls, Vermont.
Radio City Music Hall opened on December 27, 1932. The first show featured Ray Bolger (vaudeville song-and-dance man, Wizard of Oz's scarecrow) and dancing great Martha Graham.
The famous 1932 photograph "Lunch Atop a Skyscraper" was among many posed photos taken and distributed to the news media to promote Depression-era real estate.
The staple remover wasn't invented until 1932, 66 years after the stapler was invented.
The disclaimer at the end of movies ("This is a work of fiction. Any similarity to actual persons, living or dead, is purely coincidental.") was introduced after Princess Irina Yusupova sued MGM for implying in a 1932 movie that Rasputin had seduced her.
The tuition for one year at Yale was $1,056.
RIP, Scandals, Sad and Odd News
15,000-17,000 World War I veterans set up camp throughout Washington, DC, to force Congress to pay their bonus immediately. Tanks and cavalry forcibly removed them.
Welsh actress Peg Entwistle committed suicide by jumping from the Hollywood Sign. She jumped from the letter "H."
On May 15, 1932, Japanese insurgents plotted to kill Charlie Chaplin and their own Prime Minister to provoke war with the US and incite "restoration" in the name of the Emperor.
During the official opening of the Sydney Harbour Bridge in 1932, a man on horseback cut the ribbon with his sword, upstaging the senior politician who was supposed to cut it.
Admiral Harry Ervin Yarnell (October 18, 1875 – July 7, 1959), proved in 1932 war games, that Pearl Harbor was vulnerable to a naval aerial attack. His superiors dismissed his findings until the Imperial Japanese Navy's Pearl Harbor attack was just as Yarnell predicted, nine years later.
In 1932, Oskar Speck was an unemployed contractor in Germany who left via kayak to seek work, but en route, he changed his plan & decided to see the world. By 1939 he kayaked to Australia. Unbeknown to him, WW2 started & upon arrival, he was detained as an enemy foreigner until WW2 ended.
To prove to the Department of Wildlife that the Ivory-Billed Woodpecker was still an extant (living) species, Mason Spencer, a Louisiana House of Representatives member, shot and killed one and brought the specimen to their offices in 1932.
The Tuskegee syphilis experiment was a cohort study conducted by the US government between 1932 and 1972, in which researchers knowingly tested (mostly black) patients with syphilis, under the guise of free healthcare.
Mary Elizabeth Frye, an American housewife and florist, wrote a poem (Do not stand at my grave and weep) on a paper bag.
A woman reputedly threatened to sue MGM after viewing the 1932 movie Freaks, claiming it caused her to miscarry. The movie features actually deformed circus "freaks", and has been banned in Ireland, Sweden, and the UK. Rock band The Ramone's chant, "Gabba Gabba Hey," is derived from Freaks's "one of us" scene.
Lilly Lindeström was found murdered in her small apartment in the Atlas area of Stockholm. The detectives realized her body had been drained of some, if not all, of her blood. Police suspected the implement was used by the perpetrator (The Atlas Vampire) to drink Lilly's blood. The case remains unsolved
The Australian Military fought against the Emu birds in 1932 in an attempt to cull the population. The military lost, and further requests for help by the farmers were turned down. It was said that "The Emu command had ordered guerrilla tactics."
The first book in English on stupidity was A Short Introduction to the History of Stupidity by Walter B. Pitkin.
A journalist named Walter Duranty wrote a series of reports denying that mass starvation in Ukraine (the Holodomor) was taking place. For that, he won the 1932 Pulitzer Prize in correspondence. To this day, the New York Times still refuses to relinquish the award.
11-year-old Albert Pierrepoint wrote, "When I grow up, I would like to be the Official Executioner." Following in his father's footsteps, he hung 435 people between 1932 and 1956 in England.
While digging for gold in the San Pedro Mountains in Wyoming, two prospectors found a mummy of a small person. Rumors came about the mummy, whether it was a hoax, a baby, or an ancient "little person". The mummy was lost and is still missing to this day.
Eleanor Roosevelt may have had a 30-year intimate relationship with writer Lenora Hickok from 1932-1962.
Firsts and the Biggest Christmas Gifts
Tripoly Game
1932's White Zombie is considered to be the first feature-length zombie film.
Carl Magee invented the first parking meter, which was first used in Oklahoma City in 1935.
YM Magazine (1932-2004)
Family Circle began publication
The Habits
Reading The Good Earth by Pearl S. Buck
Reading Light in August by William Faulkner
Reading Tobacco Road by Erskine Caldwell
Mary Elizabeth Frye
Mary Elizabeth Frye (November 13, 1905 – September 15, 2004), was an American housewife and florist who in 1932, scribbled a poem ('Do not stand at my grave and weep') on a paper bag. She circulated the poem privately, but never published or copyrighted it. In 1995, a BBC poll found that the poem "became the nation's favourite poem".

Do not stand at my grave and weep
I am not there. I do not sleep.
I am a thousand winds that blow.
I am the diamond glints on snow.
I am the sunlight on ripened grain.
I am the gentle autumn rain.
When you awaken in the morning's hush
I am the swift, uplifting rush
Of quiet birds in circled flight.
I am the soft stars that shine at night.
Do not stand at my grave and cry;
I am not there. I did not die.
Popular Music Artists
The Biggest Pop Artists of 1932 include:
Louis Armstrong, Ted Black & His Orchestra, Bing Crosby, Jack Denny & His Orchestra, Duke Ellington, Jimmie Grier & His Orchestra, Jack Hylton and His Orchestra, Art Kassel and His Kassels-in-the-Air, Wayne King and His Orchestra, Ted Lewis and His Band, Guy Lombardo and His Royal Canadians, The Mills Brothers, Ruby Newman & His Orchestra, Ray Noble and His Orchestra, George Olsen and His Orchestra, Leo Reisman and His Orchestra, Peter van Steeden & His Orchestra, Rudy Vallée & His Connecticut Yankees, Paul Whiteman and His Orchestra

Charts based on Billboard music charts.
Popular Movies
A Bill of Divorcement, A Farewell to Arms, Blonde Venus, Boudu Saved From Drowning, Cabin in The Cotton, Freaks, Grand Hotel, Horse Feathers, I Am a Fugitive From a Chain Gang, The Kid From Spain, Love Me Tonight, Me and My Gal, The Most Dangerous Game, Night After Night, The Old Dark House, Red Dust, Scarface, Shanghai Express, The Sign of the Cross, Tarzan the Ape Man, Trouble in Paradise, The Vampyr, White Zombie